Suite nº1 for Mouth: Allegory of Time
is an experimental music piece by
Akiba Jonze
, released as the first single from his 3rd album
Chronostasis
on October 1 2016.
Background and production Edit
During the Fall of 2015, as Iñaki changed his stage name to Akiba Jonze, he struggled to decide what his debut album would be. He had already worked on quite a few tracks for Akash, but felt it would be too complicated for a first album. He then worked on an unfinished project dubbed "Worlds", which would contain re-recorded versions of old tracks, as well as new ones ("Realm of Rain" being one of them). He also recorded "Suite nº1 for Mouth: Allegory of Time", trying to decide whether or not he would rather continue his career as an experimental music artist. Originally meant as a standalone piece, "Suite nº1" became part of the Chronostasis project, which was eventually continued and released on September 2016. "Suite nº1" was chosen as the first single extracted from the album and was finally released on October 1 2016. It became Akiba Jonze's most quickly downloaded work in just minutes.
Whilst he had already recorded several experimental music pieces as Iñaki, "Suite nº1" is different as far as the sound quality is concerned, as Akiba opted to not use the noise filter in this music piece, opting for a "fuller" sound instead. The music piece also differs in the use of instruments such as the celesta, discarding the idea of non-instrument instruments-only concept that had been originally used for the Laptop Daydreaming Series. As it is a suite "for Mouth", it heavily features sounds made with a human mouth, while often distorted or slowed down.
"Suite nº1" aims to chronicle the various steps in the life of a human being.
First Vowel represents childhood and the purity of the first words that an infant utters for the first time, before they get corrupted.
Broken Innocence represents the transition into adult life and the destruction of the previous child-like innocence towards the world and society.
Opinion and Influence represents the hold that other people's words have on us and on the way we act and feel.
Decay and Repentance represent the latter stages of one's life, when we regret not having acted in other ways due to how other people's opinions have influenced us.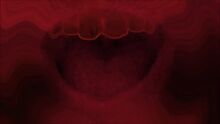 Promotion Edit
A music video was shot by Akiba himself for "Broken Innocence". This single-shot video features Akiba's mouth, twisting and deforming as the music progresses.
Radio airplay Edit
"First Vowel" was featured in the West Sonoma "No Pigeonholes EXP" radio show by Don Campau, where it was described as "a really interesting, rather subtle and drony work".